Back
Low Back Pain
Most low back pain is triggered by some combination of overuse, muscle strain, and injury to the muscles, ligaments, and discs that support the spine. Many experts believe that over time muscle strain can lead to an overall imbalance in the spinal structure. This leads to a constant tension on the muscles, ligaments, bones, and discs, making the back more prone to injury or re-injury.
Symptoms:
Sharp, localized pain in the neck, upper back, or lower back - especially after lifting heavy objects or engaging in other strenuous activity.
Chronic ache in the middle or lower back, especially after sitting or standing for extended periods.
Back pain that radiates from the low back to the buttock, down the back of the thigh, and into the calf and toes.
Inability to stand straight without having severe muscle spasms in the low back.
Osteoarthritis
Osteoarthritis, sometimes called degenerative joint disease or osteoarthrosis, is the most common form of arthritis. Osteoarthritis occurs when cartilage in your joints wears down over time.
Symptoms:
Pain. Your joint may hurt during or after movement.
Tenderness. Your joint may feel tender when you apply light pressure to it.
Stiffness. Joint stiffness may be most noticeable when you wake up in the morning or after a period of inactivity.
Loss of flexibility. You may not be able to move your joint through its full range of motion.
Grating sensation. You may hear or feel a grating sensation when you use the joint.
Bone spurs. These extra bits of bone, which feel like hard lumps, may form around the affected joint.
Get a FREE eBook on back pain!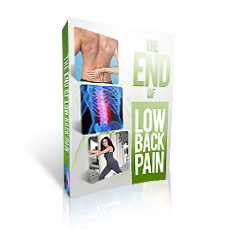 Enter your email address below for instant access!